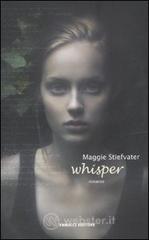 Si tratta del libro d'esordio di questa scrittrice da noi gia' conosciuta per la serie "I lupi di Mercy Falls" - Shiver e Deeper editi dalla Rizzoli. -
E' il primo di due libri autoconclusivi - la serie di "Books of Fairies"- narrato da Deirdre, la protagonista in prima persona; mentre il secondo - "Ballad: A Ghatering of Fairie" ancora inedito in Italia - e' dal punto di vista di James.
Ho tenuto a precisare queste informazione perche' essendo appunto il suo primo romanzo ho trovato la scrittura un po' piu' acerba rispetto magari a Deeper, anche se comunque molto scorrevole.
L'inizio risulta un po' lento: un'adolescente talentuosa alle prese con una madre che passa la vita a programmarle ogni singolo evento cercando di vivere attraverso la figlia il proprio sogno andato in frantumi anni prima.
Ma quando le vicende si intersecano con tradizioni mitologiche celtiche il tutto si fa piu' interessante.
Il lettore si trova davanti il "Mito delle Fate" descritto in maniera differente da come lo si potrebbe immaginare, creature splendide dalla voce soave ma crudeli e spietate e che certo non tollerano che un mortale possa avere delle virtu' superiori alle loro per questo non esistono limiti al loro operato.
Un segreto familiare da scoprire, un'amicizia che dura da tutta la vita che nasconde un sentimento piu' forte e l'amore per un ragazzo sovrannaturale "senza anima" che dovra' compiere una dura scelta.
Questi sono gli ingredienti di questa storia dal sapore fantasy ma a tratti reale.
Valutazione: 4 stelline