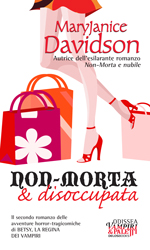 di
Editore: Delos Books
Titolo Originale: "Undead and Unemployed"
Odissea: Vampiri & Paletti
Pubblicazione:
23 maggio 2012
320 pag.
Prezzo: 14,90 euro
Il secondo romanzo delle avventure
horror-tragicomiche di Betsy,
la Regina dei vampiri
Niente può far passare a Betsy Taylor la sua mania per le scarpe – nemmeno morire e risorgere come la
nuova Regina dei Vampiri. Il solo fatto di essere una regale non-morta non significa che non ci siano più conti della carta di credito da pagare. Per fortuna, Betsy riesce a ottenere il lavoro dei suoi sogni: un posto nel settore vendite del reparto scarpe d'alta moda di Macy's.
Ma poi qualcuno comincia ad assassinare uno dopo l'altro i vampiri della città, e Betsy deve chiedere aiuto all'unico vampiro che le fa ribollire il sangue: il supersexy Eric Sinclair. Peccato che l'ultima volta che si è imbattuta in Sinclair accidentalmente ha compiuto un'antica profezia – e si è ritrovata sposata con lui...
L'AUTRICE:
MaryJanice Davidson
, americana nata nel 1969, è autrice di numerosi romanzi di successo. Nella sua carriera di scrittrice ha spaziato nel paranormal fantasy, nei romance d'amore, nei romanzi di letteratura young adult, ma ha anche pubblicato saggi storici e romanzi di storia alternativa. Le sue opere di maggior successo, grazie alle quali è stata per molto tempo in testa alle classifiche Usa dei bstseller, sono i romanzi del ciclo di Betsy la Regina dei vampiri con il quale ha vinto nel 2004 il Romantic Times Reviewer's Choice Award ed è stata candidata per lo stesso premio l'anno successivo.
Attualmente la Davidson vive a Minneapolis con il marito e due figli.
Sito ufficiale:
"qui"
LA SERIE:
- Undead and Unwed #1 (2004) -
"Non-Morta & Nubile"
(febbraio 2012) - post dedicato
"qui"
- Undead and Unemployed #2 (2004) -
"Non-Morta & Disoccupata" (maggio 2012)
- Undead and Unappreciated #3 (2005)
- Undead and Unreturnable #4 (2006)
- Undead and Unpopular #5 (2007)
- Undead an Uneasy #6 (2008)
- Undead and Unworthy #7 (2008)
- Undead and Unwelcome #8 (2009)
- Undead and Unfinished #9 (2010)
- Undead and Undermined #10 (2011)
- Undead and Unstable #11 (giugno 2012)