Buon pomeriggio miei cari BookFriends, terzo weekend del mese di settembre e anche se il tempo tentenna non possiamo certo lamentarci, il caldo si fa ancora sentire e probabilmente più di qualcuno avrà rischiato scendendo ancora in spiaggia - almeno per ritardare l'inevitabile conclusione della bella stagione. -
Io dopo un pisolino ristoratore - non sono proprio riuscita a evitarlo - ho dato un'occhiata alle ultime novità della casa editrice Newton Compton e devo dire che ci sono dei titoli che vale proprio la pena di prendere in considerazione. Una carrellata tra il fantasy, il romance , il thriller e la narrativa.
"

Il messaggio segreto delle foglie

" è una s
toria straordinaria e attualissima sul valore di ciò che rimane dopo la morte e sul disvelamento che ne consegue,
è senz'altro il romanzo più importante di Scarlett Thomas – un tempo giovane enfant prodige della letteratura inglese, e diventata ormai un vero e proprio classico contemporaneo della scena britannica – e una significativa parabola sul nostro ruolo nella società e sul nostro posto nell'universo.
Finalmente anche in Italia "
Maleficio
",
il secondo capitolo de
The Prodigium Trilogy -
u
n bestseller internazionale da ol
tre 100.000 copie vendute, t
radotto in ben 12 Paesi - che ci riporta nella scuola di magia di
Hecate Hall
e alle avventure di Sophie Mercer.
Non ho ancora avuto modo di leggere questa serie, qualcuno di voi l'ha fato? Me la consigliate?
"
Credimi sto mentendo
" è il primo capitolo di una nuova serie young adult dove il thriller fa da padrone, con un pizzico di romanticismo e tanta azione...insomma un'atmosfera alla
Ocean Eleven,
ma tra liceali.
"

IL MESSAGGIO SEGRETO DELLE FOGLIE

"
Pubblicazione:

17 settembre 2015
Zia Oleander è morta, e la sua famiglia allargata si trova alle prese con il suo strano lascito: baccelli e semi misteriosi dalle proprietà straordinarie e inquietanti, accompagnati da segreti da svelare e da scheletri nell'armadio rimasti sepolti per tanti anni…
Scarlett Thomas

nata a Londra nel 1972, insegna scrittura creativa presso la University of Kent e collabora con diverse testate giornalistiche. Nel 2001 l'«Independent on Sunday» l'ha segnalata tra i venti migliori giovani scrittori inglesi. È stata candidata al premio Orange e al South African Boeke Prize e i suoi libri sono stati tradotti in più di venti lingue. La Newton Compton ha pubblicato

Che fine ha fatto Mr Y.

,

PopCo

,

L'isola dei segreti

,

Il nostro tragico universo, Il giro più pazzo del mondo

e

Il messaggio segreto delle foglie

, tutti accolti con grande favore dal pubblico e dalla critica.
«Incantevole, un romanzo che parla dell'autenticità del desiderio e del dolore. È uno dei romanzi più straordinari che io abbia letto. Un'assoluta delizia.»
«Una saga familiare sull'amore, l'eccentricità, il sesso, la spiritualità. Scarlett Thomas è una splendida scrittrice.»
"TUTTA COLPA DI PARIGI"
Editore: Newton Compton
Pubblicazione:

17 settembre 2015
320 pag.
Prezzo: 9,90 euro
Un bacio nella città delle mille luci e dell'amore
CONTENUTO:
Quando Chloe Turner, organizzatrice di eventi, si sveglia senza soldi né passaporto all'hotel Plaza Athénée di Parigi, capisce subito di essere finita nei guai. Gli unici ricordi che ha della sera precedente sono legati a Claude, un affascinante francese che l'ha convinta a bere parecchio prima di rubarle tutto e filarsela. Sempre alle prese con i drammi delle sorelle, l'ansia del padre e quella dei suoi clienti, Chloe è abituata a far fronte ai disastri. Ma questa volta è diverso: tra una settimana deve sposarsi con Paul, il suo serioso fidanzato, negli Stati Uniti, e per giunta il truffatore è scappato con il suo anello di fidanzamento. Questa è una catastrofe che davvero non sa se riuscirà a gestire. Ma i guai non sono finiti, perché la polizia decide di indagare su alcune attività sospette legate al suo conto in banca e l'unica speranza che Chloe ha di recuperare il suo passaporto sono legate a Julien, misterioso e sexy agente sotto copertura che decide di aiutarla e proteggerla. Le mille peripezie che seguiranno faranno entrare Chloe in un mondo che non sapeva esistesse, fatto di calici di vino, fragranti croissant e stradine di campagna. E lei non potrà fare a meno di chiedersi se la vita perfettamente ordinata che ha costruito per se stessa è quello che davvero vuole…
LEGGI L'ANTEPRIMA
L'AUTRICE:
Juliette Sobanet
h

a studiato alla Georgetown University di Washington e alla New York University di Parigi. Insegnante di francese, ha una grande passione per la Francia e ha vissuto a lungo a Parigi e Lione. Attualmente vive con il marito a San Diego.

Una notte a Parigi per innamorarsi

ha vinto i Washington Romance Writers' Marlene Awards. Per saperne di più:

www.juliettesobanet.com
"
MALEFICIO
"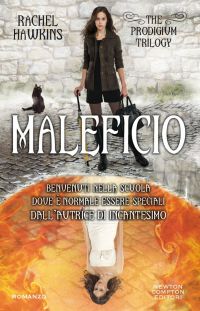 di

Rachel Hawkins
Editore: Newton Compton
Pubblicazione:
17 settembre 2015
288 pag.
Prezzo: 14,90 euro
scoprissi di essere una strega?
CONTENUTO:
Sophie Mercer è una ragazza Prodigium. Ma quando con le sue straordinarie capacità ne ha combinata una di troppo, è stata spedita all'Hecate Hall, una scuola speciale dove vengono raddrizzati e puniti ragazzi che hanno esagerato con i loro strani poteri (streghe, mutaforma, maghi, licantropi, fate). Ma questo accadeva prima che Sophie scoprisse gli oscuri segreti che la sua famiglia aveva tenuto nascosti per anni. E soprattutto prima che si innamorasse di Archer Cross, un membro infiltrato dell'Occhio di Dio, organizzazione fondata proprio allo scopo di distruggere i Prodigium. E ora Sophie sa di essere un demone e che in un prossimo futuro potrebbe essere costretta a far del male anche a coloro che ama. Ecco perché, quando il Consiglio dei Prodigium la spedisce in Inghilterra, decide di sottoporsi lì alla Rimozione, una procedura difficile e pericolosa che cancella definitivamente ogni potere magico. A Thorne Abbey, l'imponente e immensa residenza sede del Consiglio dei Prodigium, incontrerà suo padre, il capo del Consiglio, che le rivelerà una storia sconvolgente; ma più sconvolgente ancora sarà la scoperta che qualcuno sta allevando in segreto molti altri demoni per sfruttarne la potenza distruttiva. Sophie si accorge presto di essere nel mirino dell'Occhio, che invia a controllarla proprio Archer Cross. Pensava di averlo ormai dimenticato, ma si accorgerà ben presto di provare ancora qualcosa per lui, specialmente quando Archer finirà in un gran brutto pasticcio…
LEGGI L'ANTEPRIMA
Rachel Hawkins
n

ata in Virginia e cresciuta in Alabama, ha insegnato inglese in una scuola superiore.

Incantesimo

e

Maleficio

sono i primi volumi di una serie di romanzi fantasy dedicati al personaggio di Sophie Mercer. Per maggiori informazioni, visitate

www.therealladyhawkins.tumblr.com

.
- Demonglass book # 2 (marzo 2011) -
"Maleficio" (17 settembre 2015)
- Spell Bound book # 3 (marzo 2012)
- School Spirits / spin-off (maggio 2013)
Editore: Newton Compton
Pubblicazione:
3 settembre 2015
288 pag.
Prezzo: 12,00 euro
Julep conosce bene l'arte del raggiro,
ma sembra non essere l'unica…
CONTENUTO:
Julep Dupree dice un sacco di bugie e conosce bene l'arte del raggiro. Suo padre, anche lui un esperto truffatore, l'ha mandata all'esclusivo St Agatha High, a Chicago, proprio per farla socializzare con i figli dell'alta società. E Julep non perde tempo: riesce perfino a guadagnare un po' di soldi organizzando piccole truffe per far ottenere ai suoi compagni di classe il massimo dei voti. Il suo obiettivo è riuscire ad arrivare fino alla prestigiosa università di Yale. Ma quando un giorno torna a casa, ad attenderla c'è una brutta sorpresa: l'appartamento è stato svaligiato e suo padre è scomparso. Con l'aiuto del suo migliore amico, Sam, e del ragazzo più ambito della scuola, Tyler, Julep cercherà di seguire le tracce che l'uomo ha lasciato dietro di sé: e non sarà facile tra criminali che le danno la caccia e torbidi segreti di famiglia. Ora per lei non c'è più tempo da perdere, è giunto il momento di mettere in pratica tutti i trucchi che il padre le ha insegnato.
LEGGI L'ANTEPRIMA
L'AUTRICE:
Mary Elizabeth
Summer

Laureata in scrittura creativa allo Wells College, Credimi, sto mentendo è il suo primo libro (scelto nel 2014 da «TeenVogue's» come miglior romanzo d'esordio). Nell'autunno del 2015 uscirà negli Stati Uniti il seguito. Per maggiori informazioni, visitate il suo sito

www.mesummer.com

, il suo blog (

maryelizabethsummer.tumblr.com

) o seguite il suo account

Twitter

.
- Trust Me, I'm Lying book # 1 (ottobre 2014) -
Credimi sto Mentendo (settembre 2015)
- Down to the Liar - short novel (settembre 2015)
- Trust Me, I'm Trouble book # 2 (ottobre 2015)