NUOVA RUBRICA DEDICATA AI LIBRI STRANIERI
CHE HANNO ATTIRATO PARTICOLARMENTE IL MIO INTERESSE E CHE...
SI SPERA VEDANO LA LUCE ANCHE QUI DA NOI!
Buon inizio settimana a tutti!
Questo nuovo appuntamento voglio dedicarlo ad un libro straniero pubblicato di recente, piu' precisamente il 15 ottobre scorso, di un'autrice - Sang Kromah - al suo primo esordio letterario, ma non estranea alla scrittura, freelance per diversi lavori, e' specializzata in copywriter, editor e pubbliche relazione, ha svolto il suo tirocinio presso il "Seventeen Magazine"ed inoltre scrive spesso per la rivista "Essence Magazine e Jet".
Il suo libro di debutto s'intitola "CONCELEAD" di cui e' prevista sicuramente una serie.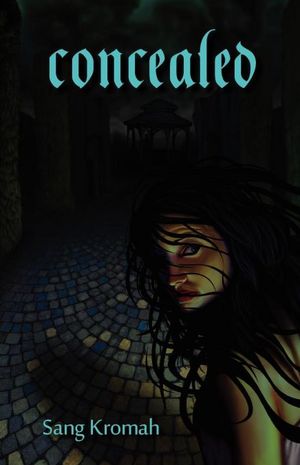 di
Editore: TLT Publishing
382 pag. brossura
Prezzo: 15,95 $
UN ROMANZO RICCO E INQUIETANTE
DAL SAPORE DI UNA FAVOLA RACCONTATA IN LINGUE ANTICHE
MA ESPRESSA IN MODO MODERNO E FRESCO.
IL BUIO NON E' MAI STATO COSI'
AFFASCINANTE E ACCATTIVANTE
Questo romanzo nasce dalle antiche tradizioni della Liberia, paese di origine dei genitori di Sang Kromah, da quelle storie raccontate la sera, pima addormentarsi, su bambini scippatori, bellezze ultraterrene e mutaforma.
Il libro tratta di una storia sul "Djinn" (Genio) e su un'amore impossibile.
Il Genio, parola, che significa letteralmente "nasconde" o "da nascondere", sono creature ostili con una vasta gamma di poteri che mettono a disposizione di colui che scelgono. Sul
lo sfondo di questo oscuro mondo sconosciuto, la storia esplora l'esperienza umana sul trovare se stessi e sul il coraggio di scegliere il proprio destino.
Quando la sedicenne Bijou Fitzroy e sua nonna nomade lasciano New York per vivere in una casa nella sonnolenta cittadina di Sykesville, Maryland, Bijou pensa che sarà finalmente in grado di vivere una vita normale e di essere come tutti gli altri.
Questa scelta sarà permanente, e Bijou non può che esserne entusiasta.
Bijou e' un "Genio" che gli occhi umani non possono vedere, possiede
un dono che le permette di sentire le emozioni degli altri; i suoi occhi così belli eppure cosi' insoliti, cambiano costantemente colore: da grigio al verde, con un'ombra dorata fino al marrone; ma incutono paura mettendo a disagio gli altri obbligandoli a distogliere lo sguardo.
Al suo arrivo a Sykesville gli abitanti della cittadina iniziano a scomparire.
Inoltre i suoi sogni sono sconvolti da premonizioni su un misterioso ragazzo senza volto.
Gradualmente la sua vera identita' si rivela e si ritrova al centro di una guerra che non sapeva di dover combattere.
Sang Kromah
è nata a Philadelphia, cresciuta a Baltimora e a Eldersburg, Maryland, insieme ai due fratelli.
Se Sang potesse essere descritta con una sola parola, quella sarebbe "Sognatrice".
Ha iniziato a scrivere racconti in tenera età su mondi fantastici.
Nonostante sia sempre stata portata nella narrazione, non fu sicura di questa strada fino a quando la sua insegnante di Letteratura non la incoraggio' sulla sua naturale capacità di sognare. Dopo di che, Sang non riusci' piu' a smettere di scrivere storie, sceneggiature, poesie, articoli, ecc.
Ha conseguito la laurea al "New York Institute of Technology in Manhattan", e il master in "Communication Arts con indirizzo in Film and Media Management" nel maggio 2010.
Lavora come freelance, e' recentemente apparsa nel numero del 40° anniversario di Essence Magazine, Magazine Clutch, Jet Magazine, e' creatrice di numerosi cartelloni pubblicitari in Costa d'Avorio, Africa occidentale, ed inoltre si occupa di vari blog di moda.
"Concelead"
e' il suo romanzo d'esordio.
Sito ufficiale:
"qui"
L'IDEA IN SE' E' DECISAMENTE NUOVA...