di
Editore: Delos Books
Titolo originale: "You're One The One That I Haunt" - febbraio 2009
Pubblicazione:
16
Settembre 2012
264 pag.
Prezzo: 14,90 euro
Terzo capitolo dedicato a Nicki Styx,
la sensitiva col potere di comunicare con
le anime dei morti bloccate su questa Terra perché hanno ancora delle storie "in sospeso"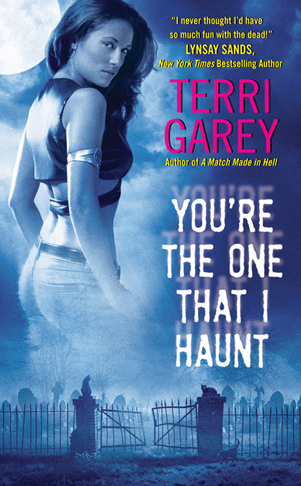 Nicky Styx ha sempre saputo che il diavolo è in agguato dappertutto – ma deve proprio trasferirsi nella casa accanto?
E, peggio ancora, non accetta dei "no" come risposta. Nicki adora il suo ragazzo, il dottor Joe Bascombe del pronto soccorso, e non lo lascerebbe mai, ma non c'è diavolo peggiore di un diavolo respinto. Lui è deciso a fare della vita di Nicki un vero inferno.
Adesso, proprio quando Nicki si sta cominciando ad abituare a vedere ed ascoltare – e aiutare – gli spiriti, si ritrova con un bel po' di problemi nuovi. Con spiriti che piovono da tutte le parti, i parenti dei defunti che bussano alla sua porta, e Joe che cerca di far fare un passo avanti alla loro relazione, Nicki potrebbe essere arrivata al punto di non ritorno.
Terri Garey
, nata e cresciuta in Florida, è laureata in Science Elettroniche alla University of S. Florida, è sposata e madre di tre figli. Prima di intraprendere la carriera di scrittrice è stata analista informatica presso una società di finanza e assicurazioni, poi nel 2005 ha venduto e pubblicato il suo primo libro con l'editore Harper Collins, "Le ragazze morte sono facili", con il quale ha dato inizio alla fortunata serie delle storie di Nicki Styx. La serie di Nicki Styx che ha subito riscosso una grande successo, è poi continuata con i romanzi "Attrazione infernale", e il presente "Sei la sola che voglio". I romanzi di Terri Garey sono pubblicati in Italia dalla Delos Books.
Sito ufficiale:
"qui"
LA SERIE:
- Dead Girl Are Easy (2007) - Le ragazze morte sono facili (febbraio 2011)
post dedicato
- A Match MadeIn Hell (2008) - Attrazione infernale (settembre 2011)
post dedicato
- You're One The One That I Haunt (2009) - "
Sei la sola che voglio" (settembre 2012)
- Silent Night. Haunted Night (2009) - inedito