Purtroppo questo periodo un po' piu' frenetico, mi porta a trascurare un pochino il mio blog e quindi capita che qualche uscita libresca passi in sordina, ma questo articolo e' dedicato proprio ad alcune novita', firmate Delos Books, che assolutamente non devono passare in secondo piano.
"La notte degli zombie"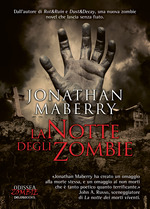 di
Jonathan Maberry
Editore: Delos Books
Pubblicazione: marzo 2013
336 pag.
Prezzo: 16,90 euro
Dall'autore di Rot&Ruin e Dust&Decay
-
articoli dedicati
qui
-
una nuova zombie novel che lascia senza fiato. «Jonathan Maberry ha creato un omaggio alla morte stessa, e un omaggio ai non morti che è tanto poetico quanto terrificante.» John A. Russo, sceneggiatore di La notte dei morti viventi.
CONTENUTO:
Il medico di una prigione inietta nelle vene di un condannato a morte una sostanza progettata per mantenere sveglia la sua coscienza mentre il corpo marcisce nella tomba. Ma come tutte le droghe, anche questa ha un effetto indesiderato: prima che possa essere sepolto, il detenuto si sveglia.
L'agente di polizia Desdemona "Dex" Fox risponde alla chiamata che l'avverte di un'effrazione proveniente dall'interno della camera mortuaria della prigione. Quando arriva scopre una scia di sangue, corpi mutilati e gli evidenti segni di morsi umani protagonisti della carneficina. E poi i cadaveri cominciano a muoversi…
Famelici. Deliranti. Contagiati. Ecco come finirà il mondo: non con un bang…
ma con un morso.
L'AUTORE:
Jonathan Maberry
è romanziere, drammaturgo e multi premiato autore al prestigioso Bram Stoker Award (
Ghost Road Blues
, 2006;
The Cryptopedia
, 2007,
Dust&Decay
2012). Per la Marvel Comics ha sceneggiato le storie di
The Punisher
,
Wolverine
,
Pantera Nera
e la serie
Marvel Zombie
.
Per la collana Odissea Zombie, Delos Books ha già pubblicato Rot&Ruin eDust&Decay, i primi due volumi della quadrilogia Le cronache di Benny Imura.
Maberry è membro di diverse associazioni di scrittori, tra le quali la Science Fiction Writer Associations (SFWA) e la Horror Writers Associations (HWA).
Il suo sito è: www.jonathanmaberry.com.
"Un cadavere in giardino"
Pubblicazione: febbraio 2013
Una nuova storia di Aurora Teagarden - «L'azione dal ritmo serrato, gli aspetti comici della vita di una piccola città, le inaspettate ramificazioni della trama e il tono umoristico garantiscono una lettura più che piacevole.»
- Library Journal -
Solitamente arguta e senza peli sulla lingua, Aurora Teagarden si ritrova senza parole per la sorpresa quando un cadavere precipita da un aereo e cade nel suo giardino, mancando di stretta misura la sua guardia del corpo. Il cadavere è quello di un agente di polizia locale, che non era certo un grande amico, e il suo apparire è seguito da strani eventi: appaiono alcuni agenti governativi, qualcuno colpisce alla testa il marito di Angel, e una collega che lavora alla biblioteca viene assassinata dopo aver avuto una lite con Aurora.
Nel suo modo indomito e inimitabile, Aurora si mette a indagare per autodifesa.
Charlaine Harris
è nata nel 1951 a Tunica (Mississippi). Dopo essersi laureata in Lettere presso il Rhodes College di Memphis da oltre vent'anni scrive opere di genere urban fantasy e mystery e i suoi libri sono frequentemente in testa alla classifica dei bestseller del New York Times.
È sposata e madre di tre figli.
Tra i suoi successi, ricordiamo, in particolare ciclo di Sookie Stackhouse, che la Delos Books pubblica nella collana Odissea Vampiri finora composto da dodici romanzi, dal quale è stata tratta la serie TV True Blood, trasmessa anche in Italia, e il ciclo di Harper Connelly, una donna in possesso di poteri paranormali, pubblicato nella collana Odissea Streghe.
LA SERIE "AURORA TEAGARDEN":
- Real Murders (2007) - "Real Murders. Il Club dei Delitti Irrisolti"(marzo 2012)
post dedicato
- A Bone to Pick (2008) - "Il Mistero del Teschio (giugno 2012)
post dedicato
- Three Bedrooms, One Corpse (2008) - "Tre Camere e un Corpo" (settembre 2012)
post dedicato
- The Julius House (2008) - "Casa Julius" (novembre 2012)
post dedicato
- Dead Over Heels (2008) -
"Un Cadavere in Giardino" (febbraio 2013)
- A Fool and His Honey (2009) - inedito
- Last Scene Alive (2009) - inedito
- Poppy Done to Death (2009) - inedito
"Il fuoco dell'inferno"
Pubblicazione: febbraio 2013
Dopo Blue Diablo prosegue la storia di Corine Salomon, l'handler capace di percepire la storia passata, presente e futura di un oggetto e delle persone
con cui è entrato in contatto.
Ho ancora i capelli rossi. Prima che lasciassimo il Texas avevo ritoccato le radici con il Nutrisse 64-R di Garnier e mi erano venuti dei riflessi fulvi color albicocca. Penso che ciò significhi che intendo tenermi questo colore per un po'. È simbolico… ho preso un impegno, almeno nei confronti dei miei capelli.
Corine Salomon è un'handler: può toccare un oggetto e conoscerne la storia. Peccato che sembra non riuscire a dimenticare la propria, di storia. Con il suo ex, Chance, al proprio fianco, pronto a prestarle il suo particolare, soprannaturale tipo di fortuna, Corine si mette in viaggio verso casa, a Kilmer in Georgia, per scoprire la verità sulle origini del suo "dono".
Ma mentre cercano di disseppellire i segreti del passato, Corine e Chance scoprono che c'è qualcosa di misterioso nello stato della Georgia, dove nessuno sembra sapere dell'esistenza della città di Kilmer.
Ann Aguirre
come autrice è annoverata nella lista dei National Bestselling Author per la fama acquisita dai suoi libri. È nata negli Usa ma attualmente risiede in Messico con marito, figlio e la solita corte di gatti e cani, come molte sue colleghe. Ha una laurea in letteratura inglese e prima di lavorare a tempo pieno come scrittrice, ha svolto diverse occupazioni tra le quali il clown, l'impiegata e la doppiatrice.
È specializzata in urban fantasy, fantascienza, storie poliziesche e paranormali. Grande successo hanno ottenuto le avventure della sensitiva Corine Solomon iniziate con Blue Diablo e il presente Il fuoco dell'inferno usciti in questa collana, ai quali seguiranno altri tre romanzi che saranno pubblicati in Italia dalla Delos Books.
LA SERIE "CORINE SOLOMON":
-Blue Diablo book#1 (aprile 2009) - "Blue Diablo" (ottobre 2011)
post dedicato
- Hell Fire book #2 (aprile 2010) -
"Il Fuoco dell'Inferno (febbraio 2013)
- Shady Lady book #3 (aprile 2011) - inedito
- Forbidden Fruit (breve racconto ebook) - inedito
- Devil's Punch book #4 (aprile 2012) - inedito
- Agave Kiss book #5 (marzo 2013) - inedito