IL LIBRO:
di
Editore: Mondadori
Titolo Originale: "Snow White & the Huntsman"
Pubblicazione:
11 luglio 2012
240 pag.
Prezzo: 16,00 euro
Biancaneve è l'unica al mondo a superare in bellezza la Regina del male, che per questo è decisa a ucciderla. Ma quello che la regina malvagia non può immaginare è che la ragazza che minaccia il suo regno è stata iniziata all'arte della guerra dal Cacciatore che era stato inviato per ucciderla.
La celebre favola di Biancaneve si trasforma in un racconto epico, dark e romantico.
LA FAVOLA DI "BIANCANEVE" COME NON L'ABBIAMO MAI LETTA
UNA VISIONE MOZZAFIATO DI UNA STORIA LEGGENDARIA
CONTENUTO:
C'era una volta. Un re buono, una regina che moriva troppo presto, una bambina bellissima, Biancaneve.
E la strega cattiva, con lo specchio magico e le brutte intenzioni.
Questa storia comincia come ricordate, con il re Magnus che cade nel tranello di Ravenna, una splendida ragazza che si fa salvare e sposare per poi ucciderlo durante la prima notte di matrimonio. Ma la sua vera identità viene svelata, Ravenna è una strega a capo dell'Armata Oscura che vuole conquistare il trono e il regno.
La giovane Biancaneve viene imprigionata per dieci anni e quando finalmente riesce a scappare tutto cambia: ad attendere la diciassettenne in fuga c'è la Foresta Tenebrosa, un luogo denso di pericoli e inganni, e la strada verso la verità sembra essere più difficile del previsto.
Ravenna imbraccia il suo specchio, ancora una volta vuole sapere se è lei la più bella del reame. Ma quella lucida superficie è costretta ad ammettere che il primato non le appartiene più, che lo sguardo candido e le gote rosate della giovane Biancaneve la rendono la più bella, incrinando i poteri della Regina. Ravenna incarica il fratello Finn di trovare qualcuno che riesca a catturarla, qualcuno che sappia muoversi all'interno della Foresta: Eric, il cacciatore che ha perso l'amata moglie e si consola bevendo whisky, è l'unico che può aiutarli.
Ma quando Eric incontrerà gli occhi di Biancaneve riuscirà a tener fede al patto stipulato con Ravenna? Quella ragazza è talmente bella, è così forte e affascinante che la storia sta per prendere una strada inaspettata.
Dimenticate i nani buffi e docili, dimenticate il bacio del principe e la storia molto romantica e poco combattiva che avete letto da bambini: da oggi in poi Biancaneve è soprattutto una ragazza dei nostri tempi, che combatte le ingiustizie con la forza di un animo da guerriera.
IL FILM: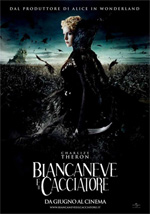 Titolo originale
Snow White and the Huntsman
.
USA

2012
-
Universal Pictures
TRAMA:
Ravenna è una bambina strappata precocemente all'abbraccio della madre da un re malvagio e affamato di bellezza. Battezzata da un incantesimo e determinata a vendicarsi degli uomini, Ravenna cresce in potere, magia (nera) e beltà, disponendo eserciti di ombre, innamorando sovrani e rovinando regni. Incantato il padre di Biancaneve, vedovo dolente e sconsolato, ne diventa regina e padrona. Assassinato nel talamo nella prima notte d'amore, spegne il suo reame e rinchiude la sua bambina nella torre più fredda del castello. Gli anni passano e Biancaneve matura una bellezza che specchio e regina non possono davvero ignorare. Minaccia e insieme soluzione, il cuore di Biancaneve è una promessa di immortalità per Ravenna che ordina di condurla al suo cospetto. Ma la principessa trova la fuga e infila la via del bosco, vendendosi care pelle e cuore. Assoldato un cacciatore ebbro e impulsivo, la perfida Ravenna lo lancerà all'inseguimento della fuggitiva, perduta in una foresta ostile, dove la soccorreranno nani, fatine, principi pallidi e cervi radiosi.
BOOK TRAILER: