Per questo nostro terzo appuntamento
- con questa rubrica "Ideata" e "Creata" da questo blog -
tra le 3 opzioni e' stato scelto il libro

"L'Emporio degli Incanti"

di Tanya Huff - casa editrice Delos Book.
Appuntamento previsto per la

meta' di novembre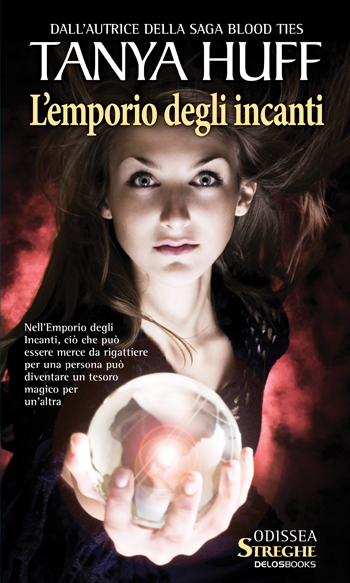 "L'emporio degli incanti"
Titolo Originale: The Enchantment Emporium
Editore: Delos Book
(Odissea Streghe)
Pubblicazione: Maggio 2010
561 pag.
Prezzo: 15,90 euro
Nell'Emporio degli Incanti, ciò che può essere merce da rigattiere per una persona può diventare un tesoro magico per un'altra
CONTENUTO:


I Gale possono cambiare il mondo con i loro incantesimi, e amano tenere questo potere all'interno della famiglia; alcuni potrebbero definirli come delle streghe, e questa potrebbe anche essere una definizione accurata, se si è disposti ad avere un minimo di flessibilità riguardo al significato del termine "strega". Comunque, nessuno potrebbe mai negare che la magia popolare funzioni, se utilizzata da loro.
Poi un giorno Alysha Catherine Gale eredita dalla nonna una bottega di rigattiere a Calgary. Soltanto al suo arrivo a Calgary, Alysha si rende conto che la clientela della sua bottega, l'Emporio degli incanti, è costituita da creature magiche, e che ciò che potrebbe essere "merce da rigattiere" per una persona, può costituire per un'altra un vero tesoro magica.
L'AUTRICE:
Pur avendo lasciato la Nuova Scozia all'eta' di 3 anni e aver sempre vissuto da allora la maggior parte della sua vita nell'Ontario,
Tanya Huff
si considera ancora legata alla vita marittima. Lungo il tragitto che l'ha portata all'idilliaca esistenza rurale che condivide con la sua compagna Fiona Patton, sei gatti e un Chihuahua, Tanya Huff ha conseguito una laurea in Arti Radiotelevisive presso il Politecnico Ryerson, un bagaglio di istruzione che poi ha sfruttato nella stesura dei suoi romanzi della serie
"Blood Ties"
( Il prezzo del sangue, Tracce di sangue, Linee di sangue, Patto di sangue, Debito di sangue e l'antologia La banca del sangue), che hanno come protagonisti il vampiro Henry Fitzroy, l'investigatrice privata Vicky Nelson e il detective Michael Cellucci. Da questi libri e' stata tratta la serie televisiva "Blood Ties" trasmessa anche in Italia da Fantasy Sky canale 132.
COMMENTI:
"I fan di Buffy e di X-Files apprezzeranno questo nuovo romanzo ndi Tanya Huff: un'avventura soprannaturale piena di sesso, violenza e umorismo"
"Tanya Huff ci offre una storia affascinante, che incanta, e che incontrera' il gusto dei fan di Laurell K. Hamilton e di Jim Butcher."
- The Midwest Book Review -
"Un fantasy contemporaneo pieno di divertimento, con un'abbondanza di strani personaggi e di magie inattese, misti a umorismo, che mantengono serrato il ritmo della vicenda."