Tutte le cose belle finiscono, e anche la famosissima saga di Sookie Stackhouse, nota anche come

True Blood

dal titolo della serie tv che ne è stata tratta, giunge al termine col tredicesimo libro, Morti per sempre (Dead Ever After).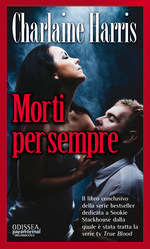 Pubblicazione:

25 giugno 2013
(gia' disponibile per la prevendita del sito della casa editrice)
I vampiri piu' crudeli e disinibiti della tv tornano nell'ultimo atteso capitolo
della saga letteraria da cui sono tratti!
Nella città di Bon Temps ci sono segreti che minacciano le persone più vicine a Sookie, e che potrebbero annientare il suo cuore…
La sua relazione con Eric Northman non è più così ben definita. Lui e i suoi vampiri si stanno tenendo a distanza… e mantengono un gelido silenzio. E quando ne scopre il motivo, Sookie
ne è devastata.
Poi uno sconvolgente omicidio scuote Bon Temps, e Sookie viene arrestata come colpevole.
Le prove contro di lei sono però deboli, e riesce a uscire su cauzione. Indagando sull'omicidio, scoprirà che quella che sembra la verità a Bon Temps è soltanto una comoda menzogna. Che quanto passa per giustizia è più che altro sangue versato. E che ciò che passa per amore non è mai sufficiente…
L'AUTRICE:
Charlaine Harris

è nata nel 1951 a Tunica (Mississippi). Dopo essersi laureata in lettere presso il Rhodes College di Memphis, da oltre vent'anni scrive opere di generemystery e urban fantasy. I suoi libri da anni sono in testa alle classifiche del New York Times dei libri più venduti. È sposata e madre di tre figli.
I suoi numerosi romanzi hanno sempre ottenuto un grande successo, in particolare i cicli di Harper Connelly, di Aurora Teagarden e di Shakespeare (tutti pubblicati in Italia da Delos Books), tuttavia quello che le ha portato maggior notorietà è stato il ciclo di Sookie Stackhouse, che ha vinto il prestigioso Anthony Award e che è diventato un bestseller internazionale, tradotto e pubblicato in Cina, Giappone, Spagna, Romania, Grecia, Germania, Francia, Gran Bretagna, Russia, Turchia, Tailandia, Estonia e Corea.
La saga "A Sookie Stackhouse Novel":
Finche' non cala il buio (Dead Until Dark - 2001) - scheda
Morti viventi a Dallas (Living Dead in Dallas - 2002) - scheda
Il Club dei morti (Club Dead - 2003) - scheda

Morto per il mondo (

Dead to the World -

2004) -

scheda
Morto stecchito (Dead as a Doornail - 2005) - scheda
Decisamente morto (Definitely Dead - 2006) - scheda
Morti tutti insieme (All Together Dead - 2007) - scheda
Di morto in peggio (From Dead to Worse - 2008) - scheda
Morto e spacciato (Dead and Gone - 2009) - scheda
Morto in famiglia (Dead in the Family - 2010) - scheda
Resa dei conti mortale (Dead Reckoning - 2011) - post dedicato "qui"

A un Punto Morto

(Deadlocked - 2012) - post dedicato "qui"

Morti per Sempre

(Dead Ever After - 7 maggio 2013 )
IO CREDO CHE MI MANCHERANNO...E A VOI???